23rd Annual WomenDrum
Light at the End of the Tunnel Edition!
September 24-26, 2021, Oakwood Retreat Center, Muncie, IN
Join us for the 23rd Annual WomenDrum women's drumming weekend at Oakwood! Arrivals begin at 4:00 p.m. Eastern on Friday and we end on Sunday after lunch. Djembes and ashikos are available for rent ($15) or purchase.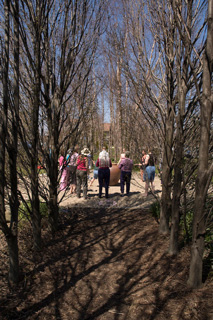 Here's what to expect from your WomenDrum weekend:
hands-on instruction using drums, small hand percussion instruments, our bodies, and voices
the skills necessary to play comfortably in any group, regardless of experience or skill level
the guidance and support you need to reach your next level of playing and facilitation skills
the skills necessary to best teach yourself and others
improvisational and part-oriented world drumming, including African drumming
using body movement and voice to quickly learn drumming skills and synchronize groups
skills for accompanying dance, singing and chant
how to buy and care for drums and hand percussion
using the power of the drum for creativity, spirituality, healing, ritual, and community building
exploring rhythm from a female perspective; what to do when male and female energies clash
This weekend will be different in many ways from previous events, focusing on Covid safety for all attendees.  All attendees must be fully vaccinated (apologies to those who cannot or don't wish to be vaccinated), and attendees will be asked to sign a health risk waiver saying that they won't hold Sally or Oakwood liable if they get Covid during or after the event.  18 single rooms are available; double occupancy is available only by request for family members and Covid pod members.  Camping is available, as is Saturday-only registration for a total of 30 people per day.  We will work outside in the Thunder Barn and in the Community Building as people are comfortable.  Meals will be plated in the kitchen and served; all Oakwood staff working this event will be vaccinated.  Oakwood follows CDC guidelines for hotels and restaurants in terms of cleaning, food, and number of people allowed in retreat spaces, at tables, etc.  Our goal is a safe retreat for all.
Because we will be a small group, we will focus on learning together, with beginners, intermediate, and advanced players being given appropriate instruction to challenge their skills.  If you have never attended before, contact me for more information about skills you will be learning.  Because many of us have not had a chance to drum for over a year, we will include reviewing basic skills and technique, and give ourselves time to simply play and be together.  We will include opportunities for movement; singing may or may not happen depending on where we are with the pandemic.  Let Sally know if you have a special interest or ideas for breakouts or activities you'd like to have.
Other highlights include:
*Oakwood's chocolate-chip cookies * Saturday night Fire and Water party (Bonfire drumming and a pool party, weather permitting) * Optional yoga morning and evening (?) * Optional instrument making or arts workshops * Hiking * Wonderful food *Cozy rooms * Walking in the World Garden * Indiana in the fall * Vendors * Celebrating surviving Covid! * And an incredible, diverse, wonderful group of women!
Professional body workers will be available for optional half- and one-hour massages (ca. $65 an hour).
Come reconnect, refresh your mind and spirit, and recharge your creativity!
Drum in a safe, supportive, and playful environment!
NOTE: Many photos are clicky… so click to embiggen!